Dunlop D908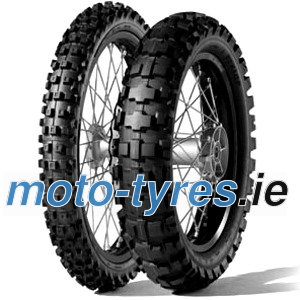 The dual-sport D908RR is designed to handle severe racing and cross-country conditions and provides exceptional durability and grip over rocks, hard ground and pavement.

Features >
# Designed specifically to cope with the speed, horsepower and weight of large-displacement rally-type dual-sport machines.
# Reinforced tread blocks yield exceptional traction and stability.
# The generous open-space around the shoulder area provides ultimate traction in sand and mud.
# Heavy-duty casing provides excellent bump absorption, and allows lower air pressures for a larger footprint and increased traction.
*Prices include VAT and delivery within Ireland.
**More than 90% of our orders reach the customer in the specified delivery time.