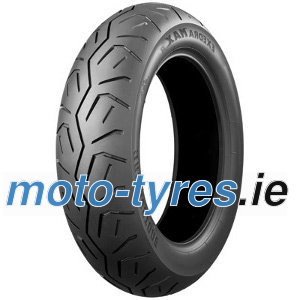 Please note: Prices apply to tires without rim. Depending on the tire dimension, the tread pattern may vary.
Bridgestone
E-Max R
160/80-15 TT 74S Rear wheel, M/C
Bridgestone
E-Max R
160/80-15 TT 74S Rear wheel, M/C
Bridgestone - Premium tyre manufacturer from Japan, top quality at premium-class prices.
TT = Display matching tubes
Tyre size
160/80-15 TT 74S Rear wheel, M/C
Speed Index:
S:
Approved
up to 180 km/h
Manufacturer promotions and promotions

Description

Matching motorcycles

Client reviews rating

Technical specifications
• The most popular choice worldwide for Japanese cruisers and other heavy-weight, long-distance touring bikes.
• Cutting edge pattern designs tested on a wide variety of roads around the world ensure excellent stability and reliable response when you need it most.
• The Max's tread design is optimised to reduce pattern noise and improve efficiency for a smooth, comfortable and economical ride.
• Excellent grip and line traceability – even when carrying heavy loads – give you the freedom to cruise with total peace-of-mind.
• Unbelievable road holding capabilities and precision handling will make you forget you even have tyres in the first place.
| | |
| --- | --- |
| Brand | Bridgestone |
| Tyre type | Chopper / Cruiser |
| Model | E-Max R |
| Dimension | 160/80-15 TT 74S Rear wheel, M/C |
| Tyre width | 160 |
| Tyre profile | 80 |
| Tyre size | 15 |
| Tyre load index | 74 |
| Speed index | (S) |
| With/Without Valve (TT/TL) | Tyre requires tube |
| M/C | Yes |
* The list prices, if available, are a net calculation basis for determining sales prices between tire manufacturers and their dealers.
In no case are the selling prices paid or usually paid.
**Prices include VAT and delivery within Ireland.
***More than 90% of our orders reach the customer in the specified delivery time.