Bridgestone H 50 F UM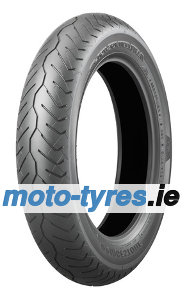 Introducing the new Bridgestone Battlecruise H50 engineered specifically for your American V-twin motorcycle.
Using advanced Bridgestone technology and the highest quality components, the Battlecruise H50 lets you fully connect with the road, giving you great handling on both wet and dry surfaces. With long treadwear and great grip, it's a tire built to let you enjoy your ride with full confidence.
A superb combination of handling performance and great grip on both wet and dry surface with a overpassing mileage performance.
Long lasting
High cornering power
Easy and precise handling
Safe grip feeling on both dry and wet
H50 front has been developed in order to uniform the contact pressure distribution on top of having a bigger contact patch.
Higher cornering power:
Less force needed to handle your heavy American V-twin
Easy and precise cornering
On top of the great handling performance it is necessary to be able to enjoy this on long trips as well. The development of the front tyre has been focused on the vertical stiffness of the construction.
Strategic reinforcement on the carcass & envelope
The right balance between rigidity and shock absorption
Improved vibration damping
Higher shock absorption
*Prices include VAT and delivery within Ireland.
**More than 90% of our orders reach the customer in the specified delivery time.