Bridgestone TW152 F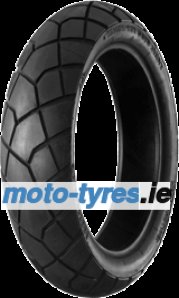 • An on-off road tyre with an emphasis on street application.
• Excellent high speed stability, handling, wet performance, and all-round street use performance has led to its choice as original fitment on prestigious, high-powered bike brands such as BMW and Honda.
• The Trail Wing range stands for superior off-road performance tailored to the specific needs of your individual machine.
• Let us take you under our wing with a wide spectrum of patterns, sizes, speed indexes and OE specifications, from a selection of scooter dimensions to large trail bikes.
• Optimized for all possible surfaces and conditions.
*Prices include VAT and delivery within Ireland.
**More than 90% of our orders reach the customer in the specified delivery time.