Bridgestone M59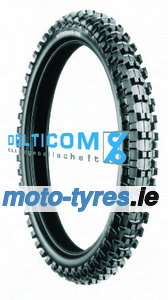 The Bridgestone M59 is a front tyre for Mini Motocross. Perfectly set-up for hard to soft surfaces.
Hard terrain performance
Developed for the highest levels of motocross competition, unleash the power of your machine, whatever the surface!
Adaptability and versatility
Designed for a wide range of surface conditions, from mud and sand, to gravel, to hard terrain.
Full powered performance
The combination of superior grip, traction and gap absorption gives you the comfort and reassurance to push your bike to the limit.
*Prices include VAT and delivery within Ireland.
**More than 90% of our orders reach the customer in the specified delivery time.