Bridgestone R10 R Evo Type 2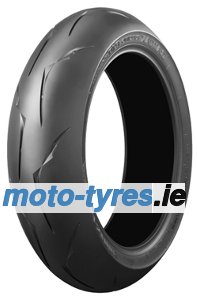 Bridgestone Battlax R10 Evo
Let the race begin with the tyre your bike was born to ride.
Features
True racing performance
It's time to take it up a notch with the latest version Battlax Racing R10 EVO. Revolutionary construction and compound technologies combine to push your bike well beyond the limits.
Unbelievable cornering speed
Want to power in, through and out of corners like they weren't even there? Trust Bridgestone's most advanced MotoGP™ technology to straighten you out.
Superlative handling
Just when you thought you knew the meaning of precision control, Bridgestone redefines the whole concept. Extra cornering grip at the front and greater consistency at the rear let you master your bike like never before.
Untold flexibility
Do you want the edge of more line choices, earlier clipping points and faster exits? You got it! Trust the Battlax R10 EVO to come up with the grip you need, precisely when you need it.
Consistent response
Develop the trust and confidence you need to really push the bounds of your bike and the track. Thanks to consistent traction grip across the whole temperature range. With longer tyre life as an added bonus.
*Prices include VAT and delivery within Ireland.
**More than 90% of our orders reach the customer in the specified delivery time.