Bridgestone R 11 R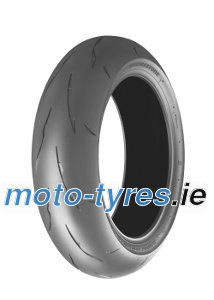 Enhance the contact feel through the working of the tyre in order to attack lap time records during the race, lap after lap in large operating range.
Contact feel on entry corner
New viable mono spiral belt construction is optimizing the spacing between the HTSPC wire system to change the rigidity to its optimum all over the thread area.
Grip on the brakes and acceleration
Higher pressure on the contact patch generating more cornering force from lower camber angles is providing maximum grip feel in the braking zone. Moving the boundery limits of the friction circle is generating higher traction power in the acceleration phase.
Consistency
Adopting the GP belt construction on top of the VMSB optimises the homogeneity of the contact patch behaviour for maximum consistency.
Large operating range
Available in two compounds covering both a large operating range for different track severity and conditions.
*Prices include VAT and delivery within Ireland.
**More than 90% of our orders reach the customer in the specified delivery time.