Bridgestone BT021 R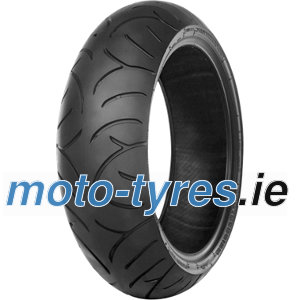 • The BT 021 tyre is a true luxury sport tyre, with confident front-end feel, high stability both on motorways and winding roads, strong grip on wet and dry, and plenty of shock absorption for comfortable long journeys.
• It beats the BT 020 tyre performance on all major criteria, including higher mileage in all riding modes.
• With optimal stiffness provided by the HTSPC (High Tensile Super Penetrated Cord), this tyre raises stability and shock absorption to the highest levels.
• The distinctive new slash pattern design with wide crossing centre grooves on the front tyre gives top-quality handling and steer precision. Mileage tests also show significantly higher resistance to irregular wear than the BT-020 tyre it replaces.
• The new BT 021 tyre is designed to provide a wide range of heavier sport touring motorcycles, from 600 cc to 1200 cc, with the highest possible levels of comfort at speed and an exciting feel through corners off the highway, in all conditions.
*Prices include VAT and delivery within Ireland.
**More than 90% of our orders reach the customer in the specified delivery time.