Dunlop Geomax MX 52 F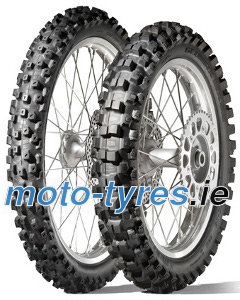 The new medium-hard terrain tyre developed and perfected in the world's most competitive motocross environment.
Optimised braking performance and cornering stability thanks to Directional Pattern block design (MX-52 front)
Directional precision and line holding stability from Carcass Tension Control System (CTCS)
Better rear control under power, enhanced traction and improved straight line stability from staggered centre blocks
Improved slide control and cornering grip due to Progressive Cornering Block Technology
Centre blocks deliver great traction and improved wear on hard ground (MX-52 rear)
Anti-rebound rubber reduces kick back, great for harder terrain (MX-52 rear)
New side blocks improve cornering and maximise drive on hard terrain (MX-52 rear)
CTCS technology:
Carcass Tension Control System (CTCS) controls casing stress distribution, optimising the tension in different areas, resulting in more consistent and controlled line holding, straight-line traction and better feedback.
PCBT technology:
Dunlop's new patented Progressive Cornering Block Technology increases block flexibility to achieve greater slide control, partnered with twin edges delivers tightened cornering grip.
*Prices include VAT and delivery within Ireland.
**More than 90% of our orders reach the customer in the specified delivery time.