Dunlop Sportmax Roadsmart III Scooter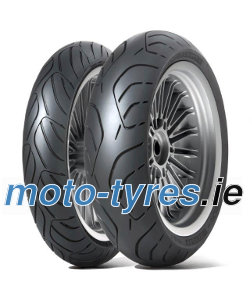 Dunlop Sportmax Roadsmart III Scooter
Dunlop's new GT tyre - for grip and performance that's stronger for longer.*
Whether it's long haul touring or demanding road-riding; RoadSmart III offers precision handling and stability without compromise. The innovative new tread design and nano technology compound provide maximum grip and performance on both wet and dry roads whilst delivering improved mileage.* From heavy large-capacity GT's to the latest spritely mid-size twins, Dunlop's RoadSmart III offers it all.
RoadSmartIII-tech-01
Looks different, is different. Innovative tread design with enhanced groove angles on front and rear. The ground-breaking tread pattern of RoadSmart III has been especially developed to ensure even wear, designed for long lasting performance.
RoadSmartIII-tech-02
Unique Interconnecting Groove Tread (iGT) delivers high water dispersion rates. Innovative interconnecting groove design (iGT) ensures fast and efficient evacuation of water to maintain class-leading grip and handling for longer.
RoadSmartIII-tech-04
Next generation wear-resistant nano technology compounds.
RoadSmart III's new MultiTread compound with optimised tri-polymer blend and high dispersion silica mix, offers significantly increased mileage and wet grip. Internal tests show that mileage has been improved by +10%.**
Newly developed rayon ply carcass and front profile.
Dunlop's RoadSmart III has an entirely revised rayon ply carcass, requiring significantly less steering input and offering more precise handling, whilst maintaining trademark confidence and reliable feedback.
Key benefits
Innovative tread design enables the tyre to maintain performance for longer
Improved wet and dry grip - for longer
New wear resistant high-performance compound for high mileage
Significantly reduced steering effort and fast warm-up
* Versus predecessor, RoadSmart II
** Versus predecessor rear tyre, RoadSmart II
*Prices include VAT and delivery within Ireland.
**More than 90% of our orders reach the customer in the specified delivery time.