Dunlop Sportmax Mutant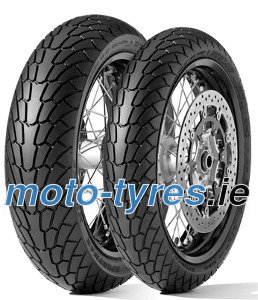 Dunlop is the new Super Moto-front tire Mutant Sportmax

In Europe, succumbing more and more bikers the fascination Super Moto. For these Dunlop has his latest creation, the brand Sportmax Mutant opened.

Razor and precise handling, reliable grip even in the most extreme angles and excellent feedback in every driving situation - that everyone would wish for Super Moto-pilot of his tires. Dunlop met all of these requirements with the brand Sportmax Mutant. And still more: The Mutant shines through high durability, has, thanks to the special rubber compound an excellent wet grip and is even on the road.
At the front, a radial casing with two aramid-belt interface layers are used, the rear tire has a radial casing with Steel-JLB (Joint Less Belt), a set of steel belt.This is like the Mutant in building a super-sports tires, however, the mixture resembles that of a Sport-Touring-Pneus and profile design is of rain-racing tire derived.Thus, the multi-function talent with the 'Flying D' on the flank as a crossover road tire on how best performance off road.
Specialised supermoto tyre designed for on- and off-road challenges.
Lightweight casings, specific mono-ply construction on front and JointLess Belt (JLB) constructed rear
Wide footprint allows for superb maneuverability and total control when sliding through corners
Aggressive tread pattern allows high performance in all conditions, including off-road use
Front and rear selected tread compounds offer durability and grip on wet and dry surfaces
*Prices include VAT and delivery within Ireland.
**More than 90% of our orders reach the customer in the specified delivery time.