Duro DI 2003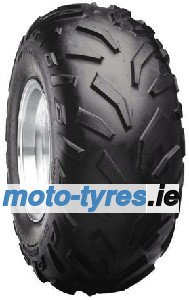 * SPORT PERFORMANCE ATV TIRES
* ALL AROUND TIRE WHICH FITS BOTH FRONT AND REAR
* CONVERGING SOLID BARS FOR ENHANCED STEERING, BACKTRACKING, SIDETRACKING, CORNERING, AND BRAKING
* ALTERNATING WIDE AND NARROW SHOULDER KNOBS CREATE MORE STABILITY AND COMFORT AT HIGH SPEEDS
* TREAD DESIGN HELPS PREVENT SKIDDING IN WET CONDITIONS.


*Prices include VAT and delivery within Ireland.
**More than 90% of our orders reach the customer in the specified delivery time.