Full Bore USA M1 Street Sport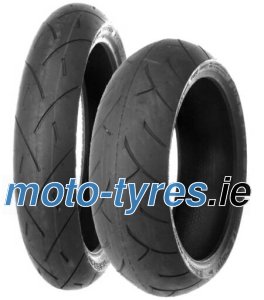 Street Sport Radials
When it's time to replace your OEM radial, this ZR Rated General Purpose superbike tire offers the perfect blend of handling and longevity. The Street Sport is reasonably priced and offers the best overall value in it's class! The tread and construction offer superior traction even in the most varied of weather and road conditions.
Designed for today's high-performance superbikes
Perfect combination of traction and longevity
Aggressive tread for a variety of road and weather conditions
Affordable pricing
Japanese engineered and precision manufactured to deliver top performance. Even the most demanding rider will appreciate the unparalleled traction and control that the Full Bore Sport Bike Radial Tires offer.
www.fullboreusa.com
*Prices include VAT and delivery within Ireland.
**More than 90% of our orders reach the customer in the specified delivery time.