Metzeler Tourance EXP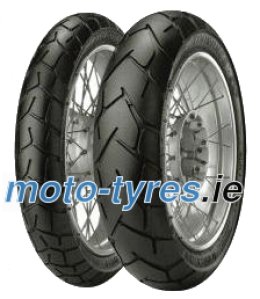 Big enduro bikes embrace the very essence of adventure, of a journey born mile by mile out of unknown routes and beautiful landscapes.
The latest generation of these bikes derives directly from the most competitive machines that each year tackle the world's most gruelling rallies. In order to better respond to bikers' changing demands they have evolved with new technical features providing stability at low and high speeds, comfort and the possibility of carrying luggage.
'Innovation within tradition': Metzeler's strategy in this segment derives from the combination of its on- and off-road experience and its continuous technological innovation. On the basis of these values, Metzeler engineers and technicians have developed Tourance, the segment's reference product.
In consideration of the street-oriented evolution of the latest big enduro bikes, a new custom-tailored product has been created: TOURANCE EXP.
The name of this tyre is taken from the concept underlying its development. The outstanding level of performance of the TOURANCE is reflected in the suffix, three letters representing the new soul of this product.It is not only a matter of technology. It is a matter of technology applied to the best tyre on the market in order to give the end user exactly what he needs.
*Prices include VAT and delivery within Ireland.
**More than 90% of our orders reach the customer in the specified delivery time.