Michelin Desert Race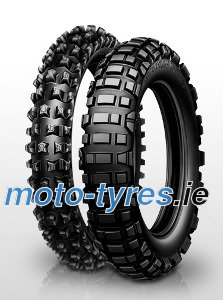 Designed for off-road rally racing, these tyres provide exceptional durability and stability at high speeds. Triumphant in the Dakar rally!
Exceptional durability.
The KTM Factory Racing team, winners of the 2012 Dakar Rally, chose MICHELIN Desert Race tyres for their consistant durability, whatever the terrain, the temperature, the power or the weight of the bike.
A must-have tyre.
33 wins in the Dakar Rally since 1983. When used with the MICHELIN Bib-mousse, they're the ideal solution for any off-road rally.
Stability.
MICHELIN Desert Race tyres ensure excellent stability at high speeds.
*Prices include VAT and delivery within Ireland.
**More than 90% of our orders reach the customer in the specified delivery time.