Michelin Pilot Road 4 Trail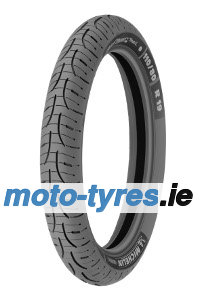 These big trail bike tyres are 100% for the road and provide long-lasting performance and exceptional braking on wet surfaces.
Rubber that sticks to the road
An all new silica-enriched rubber compound enables MICHELIN Pilot Road 4 tyres to provide exceptional grip no matter what the angle, from - 5°C on dry roads and 2°C on wet roads, up to 45°C on almost any kind of road.
20% longer lasting
With harder rubber at the centre thanks to 2CT technology, a new tread pattern and brand new tread compounds MICHELIN Pilot Road 4 tyres are 20% longer lasting1 than MICHELIN Pilot Road 3 tyres. Their MICHELIN XST+ sipes have chamfered edges to limit irregular wearing.
Noticeably improved braking times
MICHELIN Pilot Road 4 Trail tyres are able to stop 17% shorter2 than their nearest competitor on wet roads and up to 24% shorter on very slippery wet surfaces such as white lines and pedestrian crossings.
*Prices include VAT and delivery within Ireland.
**More than 90% of our orders reach the customer in the specified delivery time.