Michelin Pilot Street Radial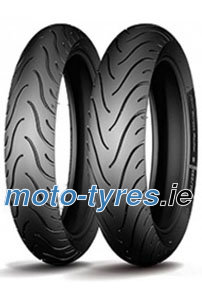 Riding is pure pleasure with this radial revolution for small capacity motorcycles and up. Enjoy sporty riding with great performance.
Stability and handling
Thanks to the radial construction their supple sidewalls absorb the impact of imperfections in the road surface for extra comfort and stability at high speeds. The contact patch, shorter but wider than that of a bias tyre, provides added grip even at extreme angles when cornering.
Grip on wet surfaces
Their 100% silica rubber compound makes all the difference on wet roads when combined with the deep, effective tread grooving.
Long-lasting
Radial tyres have a more even contact patch pressure in use, which results in more even wearing and a longer useful life.
An attractive, sporty style
Their design is directly inspired by our Sport Touring Radial range and their tread pattern is adapted from the MICHELIN Pilot Road 2 tyres.
*Prices include VAT and delivery within Ireland.
**More than 90% of our orders reach the customer in the specified delivery time.