Pirelli Scorpion Rally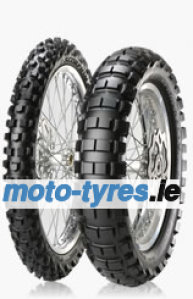 An innovative manufacturing process capable of producing a compound very resistant, and with high overall performance even after intensive use.

Front tyre blocks optimised for better directional stability at high speeds.

High traction even on the most demanding surfaces thanks to the specific geometry and to the layout of the blocks on the rear tyre.

Innovative carcass structure capable of supporting the bike's high speeds whilst ensuring high resistance to punctures.

Compounds tested in the most severe Rally Raids in the world
High resistance to hard wear and stable performance even over the longest stretches
Maximum resistance to consumption and to tearing even over long distances.

Patented reinforced carcass structure
Reduction of the sliding effect (-10%) and decrease in the operating temperature (-10 °C)
Greater traction on all types of ground in any condition of temperature and speed.

Optimised block layout
High directional capacity of the front tyre and effective traction on the rear
Excellent control in bends for the maximum transfer to the ground of all the power available.
*Prices include VAT and delivery within Ireland.
**More than 90% of our orders reach the customer in the specified delivery time.