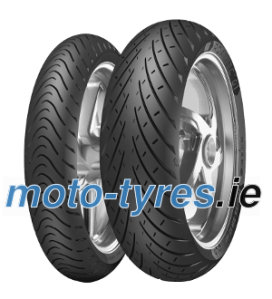 Please note: Prices apply to tires without rim. Depending on the tire dimension, the tread pattern may vary.
Metzeler
Roadtec 01
130/90-16 TL 67H M/C, Front wheel
Metzeler
Roadtec 01
130/90-16 TL 67H M/C, Front wheel
Metzeler - Motorcycle tyre brand from Germany
Tyre size
130/90-16 TL 67H M/C, Front wheel
Speed Index:
H:
Approved
up to 210 km/h
Description

Client reviews rating

Technical specifications
THE SPORT TOURING WORLD IS CHANGING:
TAKE THE ROAD WITH ROADTEC™ 01
ROADTEC™ 01 is the latest evolution in Metzeler touring tyres, with a focus on enhancing grip on wet and low friction surfaces, an increased mileage and a high degree of adaptability to different motorcycles, riding styles and conditions. The contemporary answer to past and future needs.
PRODUCT MAIN FEATURES:
INCREASED GRIP ACROSS A WIDE RANGE OF RIDING ENVIRONEMENTS
The employment of completely new tread design enhancing mechanical grip coupled with compounds evolved from those of tests-winner ROADTEC™ Z8 M/O, allows for increased confidence and safety feeling while riding.
EXTENDED MILEAGE & PERFORMANCE CONSISTENCY
New profile (larger and shorter contact patch) in synergy with the improved compounds ensure an extended product lifecycle Tread grooves geometry and positioning grant long lasting performances.
ENHANCED PRECISION AND RIDING COMFORT
Structural elements fine tuning and METZELER INTERACT™ technology promote adaptive behavior across a wide range of motorcycles and riding situations.
TYRE PROPERTIES
Properties
High transversal degree tread design
Larger and shorter contact patch
Improved compounds solutions
Tuning of structural elements
Effects
Increased mechanical grip
Reduced tyre consumption
Reduce tyre consumption. Grip where it matters
Balanced stiffness/flexibility across tyre contour
Consumer Benefits
More safety when riding also on difficult surfaces
Ride longer, ride further
Ride longer, ride safer
Stability, precision and predictability in riding
| | |
| --- | --- |
| Brand | Metzeler |
| Tyre type | Sport Touring Diagonal |
| Model | Roadtec 01 |
| Dimension | 130/90-16 TL 67H M/C, Front wheel |
| Tyre width | 130 |
| Tyre profile | 90 |
| Tyre size | 16 |
| Tyre load index | 67 |
| Speed index | (H) |
| With/Without Valve (TT/TL) | Tubeless |
| M/C | Yes |
*Prices include VAT and delivery within Ireland.
**More than 90% of our orders reach the customer in the specified delivery time.