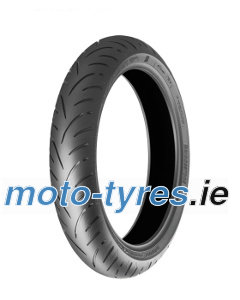 Please note: Prices apply to tires without rim. Depending on the tire dimension, the tread pattern may vary.
Bridgestone
T 31 F
120/70 ZR17 TL (58W) M/C, Front wheel
Bridgestone
T 31 F
120/70 ZR17 TL (58W) M/C, Front wheel
Bridgestone - Premium tyre manufacturer from Japan, top quality at premium-class prices.
Tyre size
120/70 ZR17 TL (58W) M/C, Front wheel
Speed Index:
(W):
Approved
up to over 271 km/h
Description

Matching motorcycles

Technical specifications

Set offers (front and rear tires)
Where safety and performance meet.
Contact feel and feedback
The safe feeling of T31 is generated by the innovative pattern design and compound upgrades which makes every sport touring rider confident whatever the condition.
Wet grip performance
The steps made in low temperature and wet conditions are directly linked to the R&D at molecular level on how to increase the silica dispersion inside the rubber.
Sporty attitude
Providing higher camber thrust due to a bigger contact patch in all lean angles, is bringing the fun factor to a new level as dry handling improved massively.
Variety of specs
A variety of options covering all modern naked and sport touring bikes including reinforced GT spec for heavy tourers.
| | |
| --- | --- |
| Brand | Bridgestone |
| Tyre type | Sport Touring Radial |
| Model | T 31 F |
| Dimension | 120/70 ZR17 TL (58W) M/C, Front wheel |
| Tyre width | 120 |
| Tyre profile | 70 |
| Construction type | ZR |
| Tyre size | 17 |
| Tyre load index | 58 |
| Speed index | ((W)) |
| With/Without Valve (TT/TL) | Tubeless |
| M/C | Yes |
Buy tires in set
€ 318.22 € 308.68
* The list prices, if available, are a net calculation basis for determining sales prices between tire manufacturers and their dealers.
In no case are the selling prices paid or usually paid.
**Prices include VAT and delivery within Ireland.
***More than 90% of our orders reach the customer in the specified delivery time.